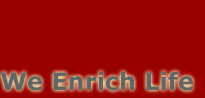 OUR PRODUCTS
HairMax LaserComb
BioNase
BioOral
BioBeam Acne
BioBeam 940
SITE INFO
eLearning
Latest News
Business
About Us
Contact Us
ONLINE SHOP
eShopping
Terms & Conditions
Money Back Guarantee
Privacy Policy
General Disclaimer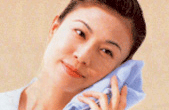 mecdical therapy Light years ahead

BioNase™ – Now only US$149
30 days money back guarantee – Buy Now
BioNase – New Phototherapy Modality
Allergic Rhinitis (hay fever) & Nose Allergies 
5th October 2005
BioNase – as seen on Channel U and TVBS news
Little Miss Huang suffered from allergic rhinitis since young. She have

tried many conventional medicines including TCM but only allowed for temporary relief. Recently she has had a significant improvement from trial of this new type of light therapy. "Before I have continuous nasal mucus daily. Now with this, the symptoms are gone." According to her mother Mrs. Huang: "After she started using this device her nose allergy improves so much that even myself have benefited from it." …………. full article
For the first time: Drug-Free Allergic Rhinitis Relief 

Allergic Rhinitis (hay fever). You know the symptoms: sneezing, nasal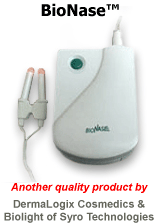 congestion and itching. Conventional treatments such as anti-histamines and nose sprays provide only temporary relief 
and a variety of side effects. 

Suffer no more…! Now you can safely and effectively get rid of the debilitating feeling of Allergic Rhinitis with BioNase™. A drug-free treatment that provides continuous relief from nasal congestion, runny nose, sneezing, itching and teary eyes without any known side-effects.
BioNase™ allows you to make it through the day with a clear head, and be your old self both at home and at work.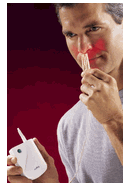 Allergic rhinitis is one of the most common ailments in the world. Its incidence may be as high as 10% in children and 20-30% in adults. Patients who suffer from annoying symptoms are commonly treated by daily medication with antihistamines, decongestants and corticosteroids. 
These treatments are aimed at reducing symptoms derived from allergen trigger and inflammation. Although commonly used, these drugs are far from ideal.
The BioNase™ offers the patient an effective drug-free alternative, providing continuous relief, lack of side effects, safety assurance and a convenient dosage schedule that fits into daily routines.
The BioNase™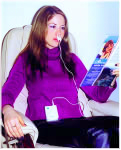 BioNase™, the first focus product for the mass market, is a breakthrough system that uses phototherapy to offer drug-free, painless relief from the nasal congestion, runny nose, sneezing, itching, and teary eyes that characterize Allergic Rhinisitis (hay fever). 
It is an Over-The-Counter product which has already begun to build significant sales, and which will become the first phototherapy product to achieve mass-market penetration. 
Used either as the sole treatment or as a supplement to existing treatments, it uses low-level narrow band light technology as an anti-inflammatory to provide long lasting relief with no known side effects.
Conventional treatments, such as antihistamines and nose sprays, provide only temporary relief and are associated with a variety of side effects.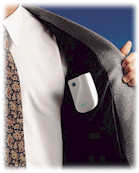 The BioNase™ unit consists of a small pocket-sized, battery driven power pack, and two probes, each consisting of 3 precision matched/focused light emitting diodes (LEDs). After the probes are inserted into the nostrils, a single push button activates the unit for 4.5 minutes to illuminate the allergic rhinitis-affected area, after which the device turns off automatically. A self-checking diagnostic light flashes in the event of malfunction.

Initially, BioNase™ is used 3-4 times a day for several days until symptoms are under control. Then, the number of treatment sessions per day can be reduced; in many cases, one treatment per day is sufficient. BioNase™ can be used for long periods of time without any adverse effects.