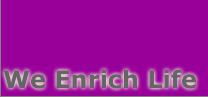 OUR PRODUCTS
HairMax LaserComb
BioNase
BioOral
BioBeam Acne
BioBeam 940
SITE INFO
eLearning
Latest News
Business
About Us
Contact Us
ONLINE SHOP
eShopping
Terms & Conditions
Money Back Guarantee
Privacy Policy
General Disclaimer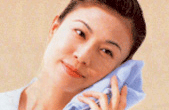 BioBeam™ 660 (a.k.a. BioBeam™ Acne or BioBeam™ Facial)
A New Acne Treatment Modality
Introducing the BioBeam™ 660 (a.k.a. BioBeam™ Acne or BioBeam™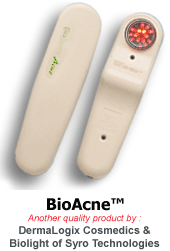 Facial) – a drug free, pain free, risk free, low level narrow band red light medical device for the treatment of all types of acne for young and adults.  The BioBeam™ 660 emits a low power red light (660nm) does not emits heat and does not hurt or burn your tissues. 
Recommended illumination is 1-2 times a day, six minutes on each area. The device is lightweight and portable, and an optional extension arm can be used to make the treatment "hands free."
BioBeam™ 660 is a Class 2A photo-therapeutic medical device and complies with Annex VI of the Medical Device Directive 93/42/EEC and is CE certified (CE 0473). BioBeam™ 660 has been found to be a fast and effective help treatment for acne.
BioBeam™ 660 is not a laser device but emitts Low Level Narrow Band Red Light both at Continuous Wave (CW) and/or Pulse Wave (PW). The light albeit non-coherent is still effective for the treatment of Acne and related skin problems. Therefore BioBeam™ 660 provides all the benefits of lasers yet at much lower price. 
Following 5 years of successful experience with BioBeam™ 660 in the treatment of various skin lesions and for healing of wounds, we have now adapted the BioBeam™ 660 to treat acne.
In recent years, clinical trials evaluating the effectiveness of BioBeam™ in the treatment of Acne have been performed in Israel and other countries. The results of these works were presented at an International Congress which took place in Canada (1992) and were enthusiastically received in medical circles.
The following conclusions came out of the above studies: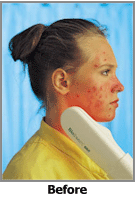 The device was found to be an effective treatment for acne in the inflammatory stage.
One can see positive results within 3-6 weeks of starting treatment.
Positive results depend on closely following enclosed instructions. If you miss one treatment, do not stop! Continue at the first possible moment.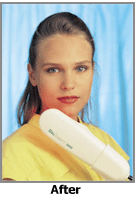 In treatment of 6 weeks:
20% of the patients were completely healed.
50% of the patients showed major improvement.
20% of the patients showed minor improvement
In cases of severe acne, it is recommended to combine antibiotic together with BioBeam treatment.
Patient's improvement according to Burton's Scale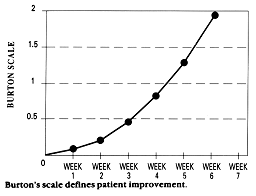 (From the study performed by Dr. Avikam Harel and Dr. Gideon Earon presented at the 6th International Conference of Pediatric Dermatology in Toronto in 1992.)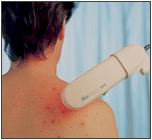 Treatment with BioBeam is compatible and, in fact, has been shown to enhance other conventional treatments of the disease. Because BioBeam greatly increases wound healing, its use together with conventional medications can decrease the duration of treatment necessary with medication.
Treatment with BioBeam is safe, painless and sterile.